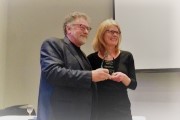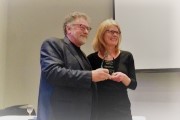 Doug Stoddart, on behalf of The Community First Health Co-op, receives the Professional Services Excellence Award from Chamber Director Karen Bennett (Photo courtesy The Nelson Daily)
Community First Health Co-op was pleased to be honoured last night by Nelson's Chamber of Commerce with the Professional Services Excellence award. Doug Stoddart, Board Member, accepted the award before the 100 plus business members who attended the Chamber's Annual General Meeting.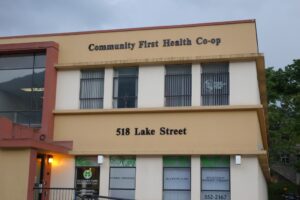 Doug acknowledged the hundreds of individuals who have provided "social capital" to Community First Health Co-op over the past 15 years. Social capital is generated by individuals pooling their resources and energies for the benefit of communities. Without social capital Community First Health Co-op would never have got off the ground, let alone have an asset like the Wellness Center at 518 Lake Street, Nelson.
Great news and great recognition of the excellent service the Health Co-op provides to our community.