Community First Co-op Celebrates AGM 2018

Community First Health Co-op celebrated its 17th annual general meeting with an invigorating chair yoga session with our community members.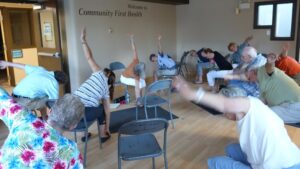 Marj Haire lead us through a variety of movements and meditations supporting both our bodies and our minds… those of us lucky enough can join Marj at the Community Complex on Tuesday afternoon to further benefit from this method of yoga.
The group were fully engaged as we lead into the administrative part of the meeting.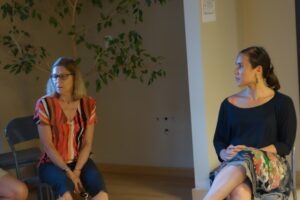 Tanya Momtazian, Midwife, Apple Tree
Chair, Debby Zeeben, provided an overview of this past year including the funding for a registered nurse to work with Apple Tree Maternity as well as the 10,000 Steps Initiative in partnership with the city of Nelson.
Board Members – Pegasis McGauley introduced Deb Zeeben, Doug Stoddart, Sarah Popoff, and Sharon Browning, who were present, and Mia Gardiner, who was out of town, as continuing volunteer Board members.
Nominees for Directors – Madeline Collins, Pegasis McGauley, and Eric Ramsden were accepted by acclamation as new Board members by the CFHC members in attendance.
The West Kootenay Community TEETH Clinic Society board member, Barry Nelson, provided an update on the activities of the low cost dental clinic.




Thanks so much for dropping by… looking forward to your next visit.

Let us know what you think about what's happening with the CFHC and if you're interested in helping out by volunteering just drop us a line.

Talk with you soon,

Eric